The aim of project is to create and monitoring an experimental platform to study the technical feasibility and assess the agronomic, health and environmental impacts of a wastewater reuse treated with drip irrigation system in order to reduce the pressure of pollution on the sensitive environment.
The main objectives of this platform, located in a Mediterranean context in Murviel-lès-Montpellier, are:
Adapt the treatment of wastewater for agricultural uses (irrigation or rejection)
Optimize the sustainability and efficiency of irrigation systems
Valorize treated wastewater from an agronomic point of view
To control health and environmental risks (survival of pathogens in irrigation systems, the crops or the soil, analysis of emerging pollutant impacts).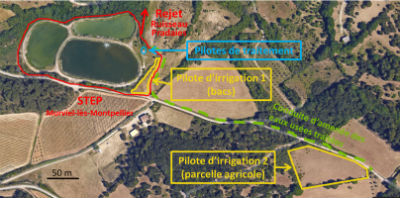 photo : © Ait-Mouheb N.
The experimental work concerns the acquisition of references (1) under controlled conditions (soil tanks) in the a treatment plant (adaptable tertiary treatment, effect of emerging pollutants, pathogen regrowth and dispersion ...) and (2) in real conditions, on an agricultural field of annual and perennial crops (area of ​​0.5 ha), using improved irrigation techniques designed to reduce the possibilities of contamination.

Throughout the project, the platform will be subject to technological researchers (wastewater treatment and irrigation equipment), agronomic and environmental.