Deltas are widely seen as being among the most vulnerable regions to global change. They are characterized by high population densities, intensive and productive agricultural systems that have national and international importance, and are witnessing far reaching environmental changes: sea level rise, salinization, upstream water infrastructure development, etc. Understanding how deltas will evolve in the face of external pressure and internal dynamics, and which governance frameworks can be devised for their integrated management, require an in-depth understanding of deltas' hydrology.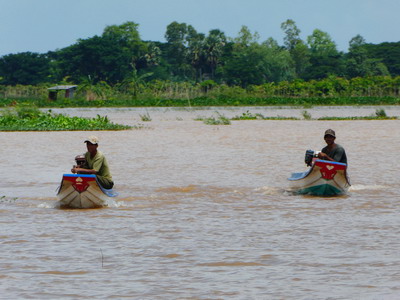 © Baoting, Venot J.P., IRD
This is a challenging task given that deltas' hydro-socio-systems are characterized by: (1) a complex network of natural streams and built infrastructures, (2) an intra-annual variability of land use/land cover with areas being totally flooded for part of the year; (3) changing speed and direction of water flows according to the tides and seasons; (4) built infrastructures that function as supply and/or drainage systems; (5) significant sensitivity to topography and sedimentation and (6) a lack of distributed monitoring stations that would provide data to feed in classic hydrological models.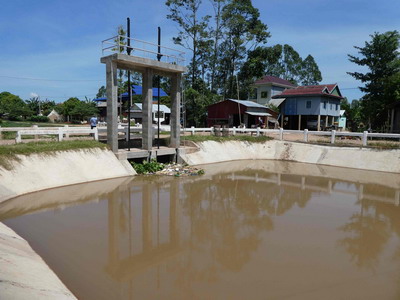 © Canal 67 Intake sept. 2017, Venot J.P., IRD
If the development of remote sensing techniques has allowed for a better understanding of the hydrological dynamics of large systems, using these techniques at a finer grain given multiple water uses and environmental services remains a challenge. How to integrate different types of information, collected through multiple means and at different scales, is another methodological question that needs to be addressed so as to devise and calibrate integrated hydrological models allowing for analyzing the sensibility of deltas to global dynamics such as climate change and/or infrastructure development programs.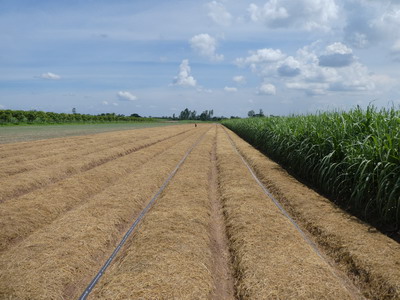 © Preks Ag Landscape, Venot J.P., IRD
Against this background, this PhD will address the following research question: how to understand the hydrological dynamics of deltas in an integrated perspective? This research question will be addressed in three steps: (1) how to represent deltas' complex hydro-socio-systems in a modeling platform? (2) How to calibrate such models on the basis of different types of information collected at different scales? and (3) How to use these models to test scenarios that would support development projects and public policies. The research question will be tackled through a case study of the Upper Mekong Delta in Cambodia, which consists of a largely uncontrolled flood plain traversed by interconnected earth canals that were excavated during the second half of the 19th century and are currently rehabilitated.