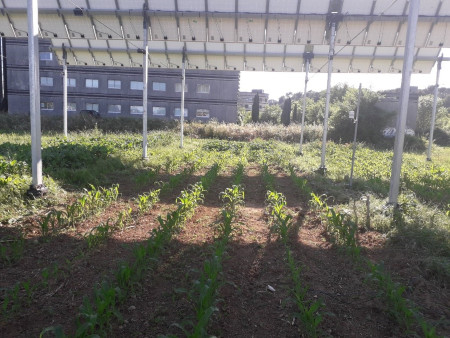 © Photo : I. A. Ramos-Fuentes (Sun'Agri 3 – 2021)
Access to drinking water is declining in most countries (Burek et al., 2016), due to several demographic and climatic factors, as well as inefficient management of water resources, especially in agriculture. In France, irrigated agriculture is an important activity, mainly concerning arable crops (corn and other cereals), in a context where water use restrictions are proving to be more and more frequent, especially in the Mediterranean countries. It has been shown that "well thought out" cultivation under agrivoltaic systems can reduce water requirements and maintain a level of production comparable to that of open-air growth.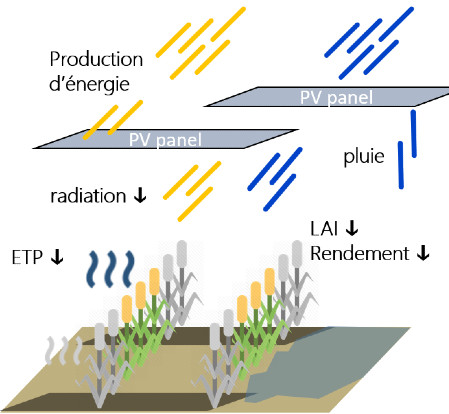 © I. A. Ramos-Fuentes (Sun'Agri 3 – 2021)
The dynamic agrivoltaic devices (DAV) would allow additional control over the system via the control of the rotation of the panels, to reduce the heterogeneity of the distribution of rainfall resulting from their presence. These tracking systems also involve more complex optimization questions, in particular, because the movement of the panels changes the spatial and temporal patterns of the cast shadow and therefore the plant's response to these heterogeneities. Therefore, the water balance of the soil, the water requirements of the crop, its growth, and its biomass production must be described by processes specific to the dynamic agrivoltaic context. This is particularly the case for field crops, as they are crops with long cycles, exhibiting more complex physiology and diverse radiation responses (type C3 or C4 metabolisms; Campillo et al., 2012). These are also crops for which constraints on irrigation will certainly exist and will have to be simulated (adaptation of irrigation techniques, availability of the resource) to optimize the use of water.
Keywords: Dynamic Agrivoltaics; Irrigation; Crop modeling; Water optimization; Field crops