Optimization of steering and irrigation technologies: Reducing inputs, environmental transfers
This team (Optimization of steering and irrigation technologies: reducing inputs, environmental transfers) comprises 11 researchers, 6 engineers and technicians and 4 or 5 contract staff and PhD students. The major issues that structure the team's research are the adaptation of the systems of agriculture production in the face of climate change, recycling water in agriculture, the link between "water, energy and food", and agro-ecological transitions.
The main research topics are:
Water productivity in agrosystems particularly in irrigated areas, and reducing inputs (water, fertilizers, energy)
The environmental impacts/services and sanitary risks linked with irrigation
Sustainability /improving the performance of irrigation technologies, using water of different quality.
The scales of application start at m² and go up to the farm holding, and even to the collective irrigation system. Fluid mechanics, hydrology, agronomy, geophysics, process engineering, and metrology are the main fields of study used to tackle these subjects. The team relies on experimental approaches and numerical modeling using external or in-house models (including the Pilote crop model and OptiReg).
Laboratory experiments and field trials are used by this team for fine analyses.
In the laboratory: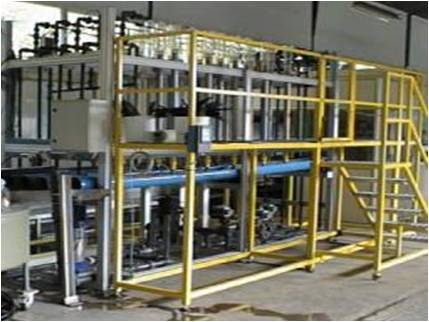 The PRESTI platform (belonging to IRSTEA, a French research institute) enables the use of test beds (for the development of biofilms), of the PIV laser room, and of the sprinkling stand.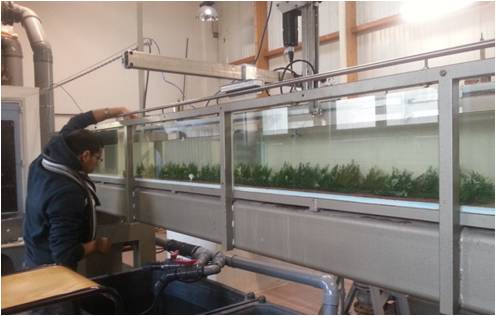 The SupAgro hydraulic facility makes it possible to replicate flows in free surface channels or distribution networks (http://www.eliosud.fr/?p=ocr&id=6)
In the field: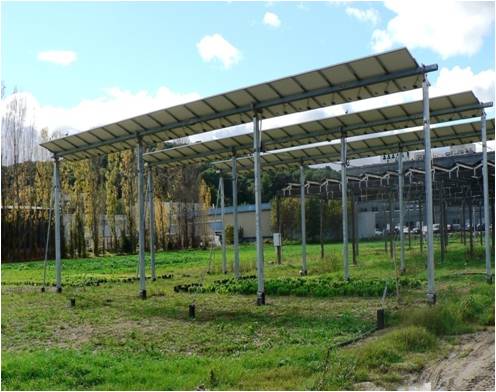 The PRESTI platform includes 3.5 ha of experimental plots to test different irrigation systems (gravity, sprinkler, localized surface or buried) and different cropping practices (conventional soil preparation, or minimum till, permanent vegetation cover)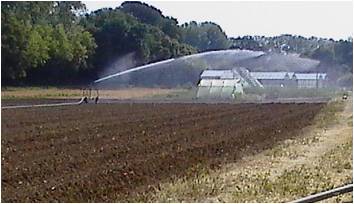 The Domaine du Merle (SupAgro, Salon-de-Provence) has 150 ha under gravity irrigation (channels and plots) to test different irrigation practices (gravity and sprinkler).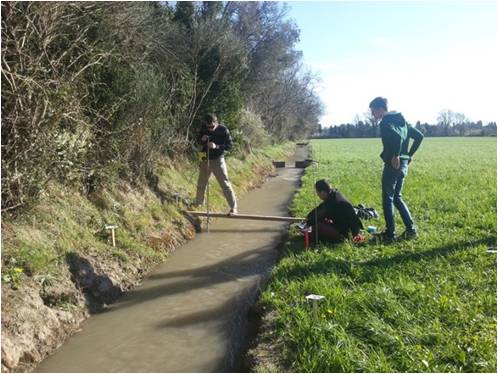 Other sites (including Gignac) allow the analysis of processes in real conditions, with no effect of scale (the performance of hydraulic structures, the impact and management of newly developed plants, for example).
In 2014 and 2015, research by this team produced two prototypes and patents:
A broad range tensiometer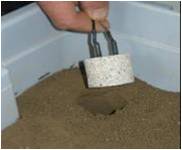 A sprinkler for waste waters (DA-EU®)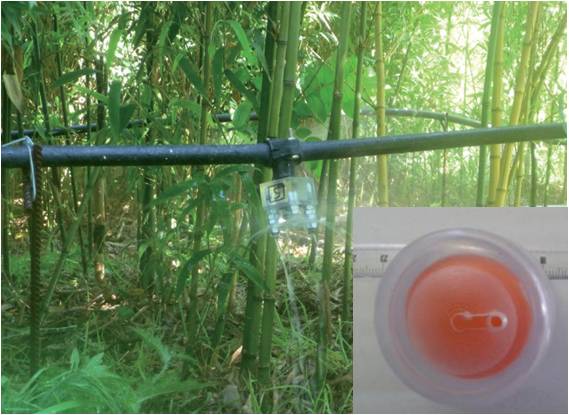 The team is involved in many research projects (ANR, Eranet, Arimnet, H2020, etc.) and enjoys international collaboration in Europe, North Africa, and Brazil in particular. It is also very involved in higher education (in particular in a 'Master in Water and Agriculture' - http://eauagriculture.wpweb.fr/) and has many links with institutions in the irrigation sector via AFEID.