Socio-hydrological dynamics of territories related to water
(Socio-Hydro)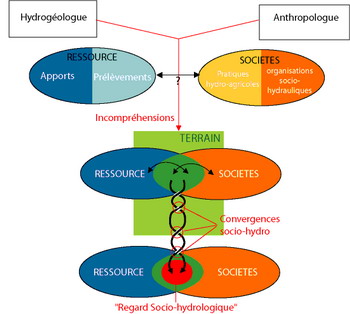 Creation of a socio-hydrological process (Riaux and Massuel, 2013)
The "socio-hydrological dynamics of territories related to water (socio-hydrology)" team groups around 15 researcher, engineers, PhD students and technicians from different disciplines (hydrology, hydrogeology, geography, anthropology, agronomy, and sociology) focused on the following observation: territories affected by water are shaped by interactions (co-evolution, feedback, intersecting dynamics) between water and society. This requires an understanding of the dynamics of water, the dynamics of societies and what binds them together.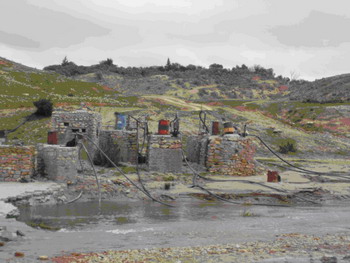 Central Tunisia: pumps installed in the Merguellil wadi based on lineage (© Riaux, 2014)
The team will combine analyses of natural and social sciences to document these dynamics and interactions. Interactions between water and social dynamics are visible through the infrastructure that links "water" and "societies" wells, boreholes, dams, irrigation networks, wadis, etc.) that we collectively refer to as "socio-hydrological objects".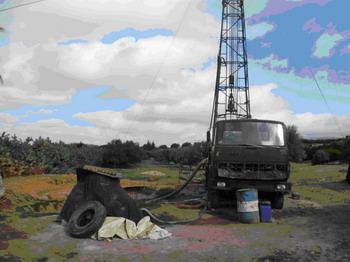 Central Tunisia: expansion of drilling raises questions about the impacts of individual actions on the aquifer of the Kairouan plain (© Riaux, 2015)
With this intentionally interdisciplinary approach, our aim is to identify new research topics to gain insights into these territories, how they came about, how they function, and the changes they undergo. Our research revolves around three main axes: field studies, knowledge, and reflexivity.
Rooted in the field, our studies focus on water for agriculture in rural areas of southern countries, mainly in North Africa and increasingly in South-east Asia.

Team manager: This email address is being protected from spambots. You need JavaScript enabled to view it.