However, and in spite of significant investments:
the performance of irrigation at plot scale remains well below expectations. Accepted efficiencies of irrigation systems are around 65% for irrigation wheel, 80% for pivots and 85% for drip systems (Howell, 2008). In real conditions, these performances may be much lower (Benouiche et al., 2014);
the impacts of adopting new equipment are still poorly known, with estimates of efficiency improvements of 0-75% (Serra-Witting et al., 2019);
on a larger scale, the performance of irrigation schemes remains poor despite several efforts. Actual water savings do not reach the expected goals, mainly due to rebound effects (Berbel, 2015) and scale effects (Mateos, L., & Araus, J.L., 2016);
modern installations are expensive from an energy and economic point of view;
the intensification of agriculture through irrigation often leads to ecosystem degradation and unsustainable use of water resources and climate change will exacerbate already existing tensions on resources, especially in the Mediterranean context.
New research paradigms and multi-scale approaches are needed to address these challenges. Three hypotheses are thus formulated, and will constitute the problematic of the thesis:
Performance cannot be limited to plot irrigation efficiency or water productivity, at the risk of systematically promoting costly techniques with numerous induced effects.
A multi-scale and multi-scalar approach must be developed to clarify the trade-offs related to the development of innovations (e.g. link between energy cost and performance of application systems).
Access to information at an unprecedented level, via low-cost sensors and easily accessible spatial information, might be a major lever to better identify achievable performance gains, at different space and time scales, and guide farmers' choices towards more virtuous practices (Chevalier & Buckles, 2013).
These three hypotheses raise the following questions:
How can the performance of irrigated systems be defined, by integrating scale effects, temporal dynamics (taking into account the rebound effect) and the effects induced by water savings?
How does the development of mass technologies (low-cost sensors, spatial information) make the evaluation of performance accessible and thus make it possible to become aware of real practices? Secondly, how does this awareness make it possible to direct - or not - choices towards more virtuous practices in terms of irrigation management?
The thesis will be based on a diversity of situations in the Mediterranean context where the development of irrigation is increasing in response to climate change, with major effects on water resources. The study areas have been defined within the framework of the project submitted to the PRIMA 2019 "HubIS" call. The thesis will focus primarily on one site in Tunisia and one in France, while the other project sites (Spain, Portugal, Algeria, Morocco, Greece) are intended to shed light on the generality of the work, without requiring the deployment of experimental work.
Keywords: Irrigated agriculture; Performances; Innovation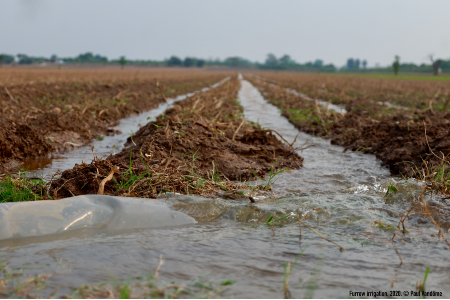 Furrow irrigation - 2020 - © Paul Vandôme