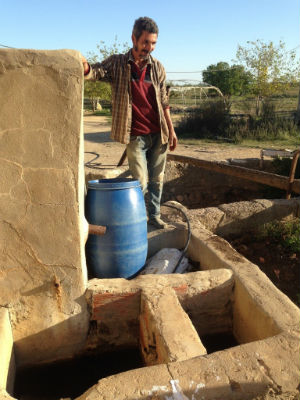 Artisanal production of fertilizer with liquid manure, as an alternative to the purchase of chemical inputs (Plain of Kairouan, Tunisie) © C. Leauthaud
The project will, in particular, focus on characterizing local farming practices with a potential to maintain overall productivity of irrigated territories while improving environmental sustainability, focusing in particular on on-farm improved efficiency of input uses, water efficient cropping systems, and crop-animal diversification strategies.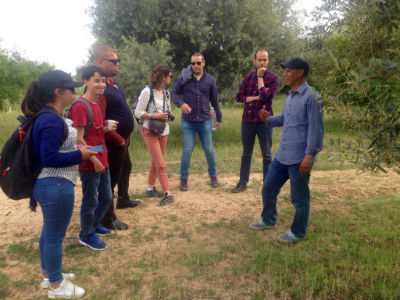 Discussion with a farmer about his farm (Kairouan Plain, Tunisia). © C. Leauthaud
The project involves three contrasted groundwater-irrigated territories in North Africa: the Saïs plain in Morocco, the Haut-Chéliff plain in Algeria, and the Kairouan plain in Tunisia.
From a methodological point of view, the project is resolutely transdisciplinary, and will include researchers in agronomy, water and environmental sciences, economy and political science. All these disciplines will contribute to qualify the socio-ecological system of irrigated agriculture within an interdisciplinary cognitive framework. It is also problem and action-oriented and participatory, with an emphasis on social learning, through the inclusion of farmers and institutional actors in major steps of the project.
Involving six young researchers from four Mediterranean countries, in various fields of knowledge, VIANA will contribute to forming a new generation of researchers interested in apprehending challenges around irrigated agriculture, in a transdisciplinary and participative approach. In parallel, it will contribute to improve farmers' knowledge on environmental impacts of agriculture through both the social learning process and a better understanding of their roles and actions in the research arena.